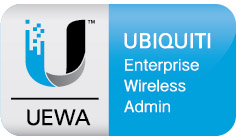 Become a Ubiquiti Enterprise Wireless Administrator (UEWA) at the Ubiquiti Training Academy brought to you by Ace Training and Development Centre. Gain valuable training with hands-on course material, up-to-date training, and foundational knowledge. See and use specialty training equipment and gain expert knowledge that will enable you to use, sell, and install/configure Enterprise WLAN equipment and build out cost effective indoor and outdoor Wireless LANs using Ubiquiti UniFi equipment.
Course includes two days of first-hand knowledge and the ability to become a fully certified Ubiquiti UniFi Administrator. Those who complete the course, lab, and pass an examination will receive full certification and the right to bear the "UEWA" emblem on their website and use associated marketing materials. 
For UBWA / UBWS course press here 
Introduction
---
Formerly known as the Ubiquiti UniFi Certified Admin (UUCA) course, the UEWA course provides technical training that addresses the flexibility of UniFi as a managed wireless solution. Helps professionals to avoid common issues and learn the fine details of the UniFi controller's functionality.
The course has a 14-hour duration and includes the following topics as set by Ubiquiti.
Seminar Content
---
 1. Overview of Enterprise Networks
2. RF and Antenna Fundamentals
3. WLAN Fundamentals
4. WLAN Planning
5. Comprehensive UniFi Configuration
6. Advanced Adoption Techniques
7. Guest Protal and Hotspot Integration
8. WLAN Troubleshooting
Trainer
---
Delivering the course will be Mr Pawel Cieplinski, a highly experienced wireless engineer and consultant from IP-PRO based in Poland. One of the best trainers of MikroTik and Ubiquiti according to evaluations. As a certified trainer for many years now, both MikroTik and Ubiquiti Networks, Pawel has a broad range of theoretical and practical experience in wireless systems, including:
Designing and deploying hotspot networks

Designing deploying ISP and application specific wireless networks in UK and Poland.

Participation in advanced research wireless projects including Eu-MESH – European research project whose goal was to develop software modules for self configuring and self healing wifi mesh networks. Also participated in project about synchronizing in-flight entertainment data in Boeing Airplanes using WiMAX, WiFi and 3G.

Creator of WISPCASTS.COM, networking video tutorial website.

Teaching over 100 MikroTik and Ubiquiti classes around the world like UK, Germany, Cyprus, Poland, United Arab Emirates, Iraq, Bangladesh. India and Singapore.
Who should attend
---
Information Technologists (I.T), Network Technicians, Computer Scientists, Computer Engineers, Network Engineers and anyone working with Ubiquiti products.
Seminar Cost and rest information
---
Date: 20-21/11/2019
Time: 09:00 – 17:00
Place: Nicosia
Duration: 14 hours
Language: English
Cost: 242 euro (plus VAT on 480 euro) for HRDA subsidy eligible participants
Special discount for non-subsidy eligible participants