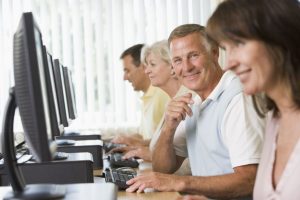 The continuing education of people is unavoidable today, since the knowledge and skills acquired during childhood and teenage years are not enough to provide a comfortable life based on science and technology. The modern person needs to have the ability to adapt to rapid changes and continuously be educated. Introduction
In the context of lifelong learning with the main aim to acquire professional competence and skills so that people can join easily the constantly changing social environment, the educational center Ace Training and Development Centre, offers the program "Learning Computer Operation for people 35+"
Introduction
---
The program "Learning Computer Operation for people 35+" is for people who do not handle fluently or at all digital services and helps to attain a familiarity with the capabilities of modern computer. Specifically learn the basics of file handle (create, copy, transfer, delete, rename), simple text editing (formatting, spell checking, use of images), Internet (web, mail, skype, facebook etc).
The program duration is 60 hours and includes the following topics, based on the "Professional Qualifications Standard" of the HRDA, Computer Operation – Level 1.
Seminar Content
---
Computer Operation and File Management

Using the Internet for finding and sending information

E-mail

Word Processing Software

Spreadsheet software

IT Security, Back ups, Antivirus etc
Who should attend
---
This course is aimed at those interested in basic knowledge on the operation of the computer having little or no knowledge and difficult to perform basic functions on their computer.