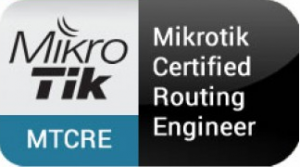 Ace Training and Development Centre is a MikroTik Training Centre (MTC) conducting intensive public and private training sessions and certification tests according to the official MikroTik Training Outline. The semester, January to June 2018, Ace Training is offering the following MikroTik Courses: MTCNA, MTCRE and MTCTCE. MTCRE is offered 05-06/03/2018.
MTCRE is one of the six second level courses on the MikroTik certification path. This course represents advanced static and dynamic (OSPF) routing methodologies, advanced tunneling and vlans.
Introduction
---
The course covers routing basics and technique, VPN, OSPF and MME. Participants will learn deeper on the MikroTik routing capability. Those participants who successfully pass the exam will have MTCRE certification.
Please kindly note that in order to take MTCRE online exam, you need to be a MTCNA certified first.
The class is taught in a lab environment, with a lab completed after each module is covered, to reinforce the concepts covered. 
The course has a 14-hour duration and includes the following topics as set by MikroTik.
Seminar Content
---
The full outline of everything that is covered is dictated by MikroTik and is frequently changed to keep it up to date with the latest features of RouterOS. The latest version of this outline is located at MikroTik website.
Who should attend
---
Information Technology (I.T), Network Technicians, Computer Scientists, Computer Engineers, Network Engineers, Computer Electricians, WISP, Network Administrators.
Course fee 
---
Cost including fees, training material, lunch and coffee break: €500
HRDA subsidy for beneficiaries €238
Final company cost: €262 + €95 VAT